18 Nov

Langara Island Fishing Tips and FAQs
---
If you're planning a BC salmon fishing trip and are thinking about Langara Island as an option, then you're on the right track, as Langara Island offers you access to the richest salmon and halibut fishing grounds on the Pacific Coast! But narrowing down a trip and knowing where and when to go can be a bit confusing, that's where we come in. Clients trust us with their salmon fishing plans for several reasons, but because of our long guiding history on Langara Island, we're able to bring unbeatable insight into your trip. Having guided at Langara Island Lodge for the past 12 years, here's a few of the most common questions I get and I'm happy to answer them for you…
When is the best time for a Langara Island fishing trip?
This is the most common question I get asked when guiding at Langara Island Lodge. The simply answer is Langara Island has the longest salmon fishing season of anywhere on the BC coast. Anytime from late May to mid September you'll have excellent fishing. The waters surrounding Langara Island see different migrations of fish through the season. Our early season fishing in focused on chinook (king) salmon, while mid season you can catch chinooks and coho (silver) salmon and later in the season the main focus is fishing for coho salmon with some chinooks mixed in. There are also other species of Pacific salmon during the season but our focus is mainly on chinooks and cohos. Langara Island is also a halibut and bottom fishing mecca, both are season long fisheries.
Where is Langara Island BC?
Langara is a small island located on the northern tip of Haida Gwaii, formerly known as the Queen Charlotte Islands. Flying time from Vancouver (included in your package) is about 1.5 hours. Langara Island is just over 8000 acres in size, running around the island by boat takes about 45 minutes. Located approximately 40 miles south of Alaska, on a clear day you can see the mountains near Sitka, AK on the mainland.
How do we get to Langara Island?
You'll fly from Vancouver to Masset, a small town located near Langara Island on the larger Graham Island. Flights from Vancouver depart from Vancouver's South Terminal Airport, adjacent to Vancouver International Airport (YVR). It is recommend you arrive in Vancouver the day before your trip to Langara. Langara Island Lodge operates exclusive charter flights that are included in the package price. Upon landing in Masset you'll be greeted by a lodge representative. The final leg of the trip is a 15 minute helicopter ride into the lodge.
How many fishing lodges are in the area?
On Langara Island there are four different lodges. Two land-based lodges and two floating lodges. The land-based lodges are Langara Island Lodge and West Coast Fishing Club. The floating lodges are Langara Fishing Lodge and North Island Lodge. Langara Island Lodge and Langara Fishing Lodge are sister lodges, operated by Langara Fishing Adventures. Previously there were two other floating lodges operating at Langara Island, operated by Oak Bay Marine Group, but both of those have shut down and are no longer operating.
How long are Langara Island Lodge packages?
At Langara Island Lodge we offer a four-day and a five-day package. The four-day package runs from Saturday to Tuesday and includes three nights of accommodation, two full-days of guided fishing and two half-days of guided fishing (on arrival and departure days). The five-day package runs from Tuesday to Saturday and includes four nights of accommodation, three full-days of guided fishing and two-half-days of guided fishing (on arrival and departure days).
How much fishing to we get to do on our trip?
One of the biggest bonuses of fishing at Langara Island Lodge is the fact you get to fish on arrival day and departure day. Many salmon fishing lodge programs on BC's coast don't offer fishing on either arrival or departure days. On arrival day you'll usually be fishing by 1:30 PM and you can fish until 7:30 PM. During your stay at the lodge you can fish from 6:00 AM until 7:30 PM, the most comprehensive guided fishing program on Langara Island. On departure day you can get a few hours of fishing until 10:00 AM.
What's the weather at Langara Island?
Langara Island weather is forever variable, it changes from day to day, and because of that you need to come prepared for all conditions. Overall the weather during the Summer months is pleasant, but rain is no stranger to this part of British Columbia. Early season can be cool, so bringing some warm clothes is essential. Lodge packages include Mustang cruiser suits that will keep you warm and dry on the water. Rubber boots are also included. It is rare to lose a day of fishing due to inclement weather, it may by chance happen once a season, where conditions are too rough. Because of the location of Langara Island Lodge, there is always somewhere to fish, protected from wind and weather.
What kind of boat will we be on?
The lodge boasts a full fleet of centre console 25 foot welded aluminum Ironwood Boats. All packages include private guided fishing and boats can comfortably accommodate up to four anglers. One of the nicest features of the boats is they all have bathrooms onboard, making it extra comfortable for all members of your group to enjoy a day on the water. The fishing is mooching style, no downriggers or heavy fishing gear, all light weight rods, the most sporting way to enjoy BC's saltwater salmon fishing! Boats are powered by twin 115 horsepower Yamaha 4 stroke motors, no smell or smoke, getting you to the fishing grounds quickly.
Where exactly will we be fishing?
You'll be fishing the waters around Langara Island and the waters of northern Graham Island. Within 15 minutes of the lodge docks there are over 30 great spots to go salmon fishing! Some of the biggest chinook (king) salmon we catch are within eyesight of the lodge. No long runs to the fishing grounds is the major advantage the lodges on Langara Island have over any other area in Haida Gwaii. Other Haida Gwaii fishing lodges have a 45+ minute run to their fishing grounds, keep that in mind when you're planning a trip, At Langara Island, you maximize your fishing time and comfort. The eastern shoreline of Langara Island and Graham Island generally offers the most protected and consistent salmon fishing. The westside of Langara Island is where we enjoy season long bottom fishing and halibut fishing.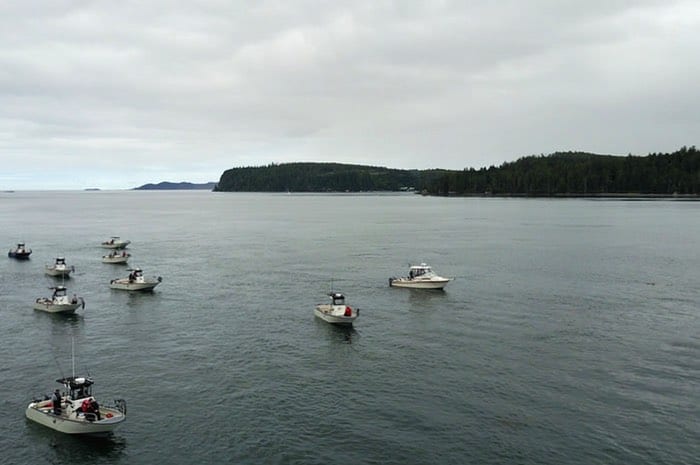 What is included in our Langara Island fishing packages?
Packages are all-inclusive. Included are flights from Vancouver, helicopter transfers to the lodge, all accommodations, meals and alcohol. No hidden charges or upsells. Also included is full fish care, your fish with be flash frozen, vacuum sealed and boxed to take home. If you're looking for a BC salmon fishing trip, make sure you know what is and isn't included, many lodges will charge for alcohol, boat upgrades and fish packaging. Langara Island Lodge's one pricing structure covers everything.
What are the accommodations like at Langara Island?
Comprised of up of three unique lodges, Langara Island Lodge has the Chinook Lodge with a capacity of 22 guests, the Eagle Lodge with a capacity of 12 guests and the Raven Cottage with a capacity of 6 guests. All lodges are of the highest standard, luxuriously appointed and all with large lounge and dining areas. Each lodge has hot tubs on expansive decks overlooking the water. Rooms are based on double occupancy, with two comfortable queen beds in each.
How do we make a lodge booking?
Simply contact me, Yos Gladstone via email chromersportfishing@gmail.com or cell 604-366-3363. I'll get back to you with availability and pricing. It's a good idea to plan your trip early, with a better than 90% return rate dates do go quick! If you haven't already, please visit our Langara Island fishing page.
---
About the Author
Yos Gladstone is the owner operator of Chromer Sport Fishing, a guiding company and booking agency based in British Columbia, Canada. A full-time salmon & steelhead guide, Yos spends 200+ days a year on the water fishing, guiding and hosting trips.